En-Gen Diesel Products are specialists in the procurement and supply of equipment and spares to the Marine, Industrial, Power Generation and Oil and Gas markets.
Our passion and total commitment to offering quality service and support along with the emphasis on building strong customer relations is key to the success of our business so we will always do whatever is required to satisfy our clients to meet their needs every single time.
Over 20 years of working closely with major clients in the industries we provide for, we have developed a comprehensive supply chain network that has enabled us to offer an extensive product range with cost-effective solutions.
Our aim is to offer you a single-sourcing procurement solution for all these products no matter where they were manufactured.
We supply spares for Diesel and Gas Engine applications along with Generator spares covering most of the well-known Global brands found in the market today.
We can supply Genuine replacement parts along with a quality Aftermarket option depending on your requirements.
En-Gen offer complete Engine packages that cover all sectors we operate in including Zone II requirements for Oil and Gas applications.
Whether it be Marine Propulsion, Generator, Fire Pump or maybe an Industrial Open Power Unit then we will supply all the Engine options available to you from brands such as Caterpillar, Detroit Diesel, Volvo Penta, Scania, Cummins and MTU to name a few.
We are here to assist you no matter what your requirements are and we hope En-Gen Diesel Products can assist your business in the future.
For any enquiries please contact [email protected].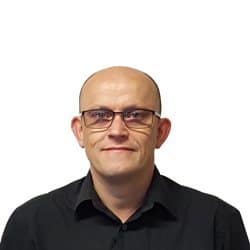 Nigel Haylett
---
Nigel has 31 Years of sales experience covering Automotive, Marine, Industrial, Power Generation and Oil and Gas Markets.
During this time he has attended many of the major Oil and Gas and Marine shows such as ADPIEC, OTC, OSEA and Seawork.
Looking at new markets for growth Nigel used a UKTI Trade mission to Saudi Arabia during British Energy week to meet key players within the Kingdom to get a complete understanding of what opportunities are available to UK businesses.
Serving as Parts Sales Manager and Business Development Manager for many years he has been responsible for growing sales in all sectors and has travelled worldwide to achieve this.
He has supported projects globally including Afghanistan where he visited Camp Bastion and Kandahar to help support the client with the supply of spares for Military Power Generation and Construction equipment along with many other applications that were used on site.
His passion for the job is as strong as ever and looks forward to assisting you for many years to come.